Well continuing with my anime journey, after Digimon ended I was getting bored. Obviously I can't watch any other cartoon which is not like Digimon. So I started searching for a cartoon which resembles the graphics of Digimon. It was then that I came in contact with 'Idaten Jump', man seriously I was not even 1% interested in cycling but when i watched that anime I was like crying to get a cycle. Obviously we won't get a MTB which was featured in the anime. And from this you all have might guessed what the anime was all about. Yep, it was about MTB (Mountain Terrain Biking).
The storyline line moves around a kid named, Sho Yamato who loves MTB. His dad built a MTB called 'Flame Kaiser' and he would practice with his beloved bike in a place called 'X-Zone' which was built by his dad for MTBs. When one day another group of bike riders came and started claiming that the area belongs to them. Well in anime there are always dominating characters like them, right! It was then when a black cloud appeared and they all were transported to another world which was also called 'X-Zone'.
Show together with his two friends Kakeru and Makoto were transported to this world. When they woke up they were not aware of what has happened. After a little walk here and there they came in contact with MTB riders. They challenged Show to a battle and of course how can we say no! But guys remember this never take any rash decision, you should always examine the situation first unlike our hero.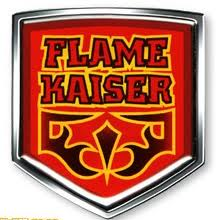 He accepted the challenge without even thinking and due to which he lost to them and Flame Kaiser platinum emblem was taken away. They required to collect 10 emblems in order to go back home. But they ended up losing their own.
Then a fellow MTB rider challenged the other riders in order to gain back the Flame Kaiser emblem. Well there must be a reason why he helped them as in this world no one helps the other person without a reason. Well we will only get to know once we watch the anime.
So guys watch it if you are an MTB and serious cycling fan or even if you are not.Do comment below if you liked the blog and watched the anime. Thanks for reading!