Beginning Part 2
So we last end up when Kaneki was going on a date with Rize. Let's continue. I am continuing it after a long time as in between a lot of new anime came so my schedule was a bit jumbled but don't worry, I will complete the series.
Okay, Kaneki and Rize went to a deserted place and when our dear Kaneki thought that yes, finally his boring life will be filled with some new color Rize attacked him. And not to mention on the right spot, if those super heavy iron beams had not fallen on her, our Kaneki had died on the spot. It is still a mystery that who made those beams fall on Rize and sadly, I never got an answer!
Then Kaneki was hospitalized and he had a kidney transplant as he was very badly hurt, after all Rize was throwing him here and there like a football. But other than Kidney and special organ was also transplanted in his body and it is known as ' Kagune ' Kagune are special predatory organs which belong to Ghouls, they are like their hunting equipment. They can be of different types, not going into brief as I skipped that part.( Hehehe )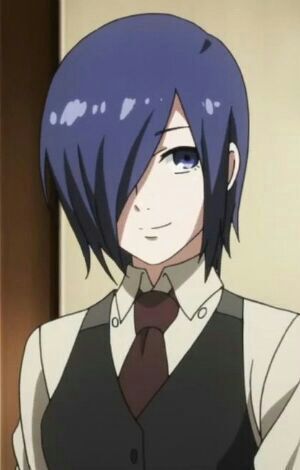 So now Kaneki realized that something is wrong with his body, as he was unable to eat human food but he was being attracted to humans, he could even smell blood! After that he struggled, he even tried to kill himself but the knife broke, and I was like now you can't even die! Then he one day met Touka Kirishima, she was at first disgusted to see him, to her a half-ghoul is really something bad. She even beat him badly, but later on Kaneki joined her and the coffee shop ' Anteiku ' who is owned by Yoshimura-san, he might be a old man but he is really strong and very kind.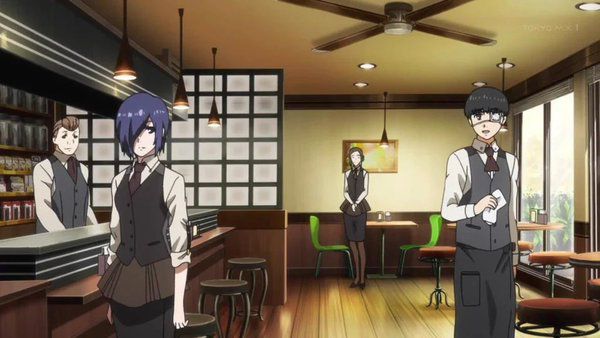 All the ghouls at the shop helped him to live a life as a ghoul and at the same time attend school as a normal kid. But this was not easy at all, Hideyoshi Nagachika, Ken Kaneki's old friend is really something, he can sense when something is wrong with him, he also has a very sharp mind which helps in the future. Hide pointed it out that something was wrong with Ken as he was acting strangely. It was really scary at first for Ken, he thought that his secret would be revealed and he will lose his precious friend!
I will be posting another part which will be the middle one, I hope you will forward to it. Thank you, take care and have a nice day. And sorry for posting not for a few days!